CIL Translation offers translations specialized in tourism and entertainment.
Do you wish to give your business an international and not just local image? Internationalization is not limited to translation, but translation is part of internationalization.
Are you a specialist in catering or hotel management? Do you offer a service, a sporting or recreational activity?
Is your activity directly or indirectly related to tourism?
Are you in St. Barth, Saint Martin, Guadeloupe, Martinique, France, or America?
To be more effective, have you decided that your information should be available in one or more foreign languages?
If so, you should know that the most effective tourism translation is not recognizable as a translation, whether it is a website or marketing support material (brochures, catalogs, advertising, etc.).
Its content should be natural, professional and clear to the audience for whom it is intended.  Not only words and grammar and punctuation, but formats, rates, schedules, measurements and even cultural factors determine the effectiveness of a translation. Expertise in all of these translation elements will allow your customer to feel confident about the professionalism of your business.
Tourism translation is also often technical translation, related to a very specific sector.
Some examples of our areas of expertise in tourism translation
Rentals: car rental, boat rental, equipment rental

Services: personal trainers, hair stylists, events, florists, beauty salons, massage, photographers, yoga, diving, airport services, sound and video, spas, sports / fitness, supermarkets, tennis, paddle boarding…

Catering: restaurants, private chefs, caterers…
Shopping in store or online: lingerie, swimwear, leather goods, ready-to-wear for adults and children, souvenirs, sports, wine…

Hotels and vacation rentals, hotel bookings, cottage rentals, websites and brochures for touristic cities

…  More specialties
How
we work
CIL Translation analyzes your project according to your sector and your needs and then provides a timeframe and fee proposal.
Execution of translation and proofreading work begins expeditiously.
Delivery of the translation is made in accordance with our discussions.
Appropriate translations

for your marketing materials

Regardless of the sector in which your business is evolving, if it is affected by tourist activity, the presence of visitors implies a necessary visibility, not only locally but internationally. A proper translation of your website, brochure and other commercial supports is essential to the development of your business in a highly competitive tourism sector.

It is recognized that the majority of people visit websites in their native language, even if they speak other languages. And of course, nobody will focus on a website in an unknown language, or on a website that uses poor language either incomprehensible or containing errors. Marketing materials using poor language will have the opposite effect of that intended: far from attracting customers, they will put them off.

It is essential that your customers trust you. A professional translation reflects a quality service. This is why it is imperative that your messages are appropriate and professional and that information is communicated smoothly.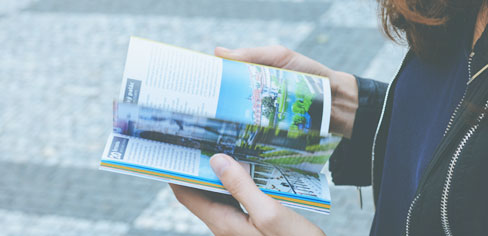 Working together
Don't limit your potential. Open your doors to the world.